Blower Rentals and Sales
Coppus Blowers
A step up from a venturi-blower is a coppus fan. A coppus fan uses compressed air to spin blades located in an enclosure. High flow rates are possible with a coppus blower if pressure drop is kept low. Even in you have large pressure drop these blowers will perform well and can achieve up to 30% of their maximum flow in most cases. These are mostly used for large tank venting as well as for providing adequate flow to scrubbers and carbon systems. Coppus blowers are considered TEXP (explosion-proof) and can be used in hazardous locations. 20" and 24" diameter versions available.

Related Products
Check out these other great Blower Rentals and Sales products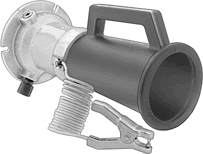 These units are great for applications which do not have large amounts of pressure drop.

The Airtech 55 blower is an air-operated blower which is completely explosion-proof.