Vapor Scrubber Chemicals
BSX50-EVT6
BSX50-EVT6 is designed to neutralize H2S and absorb hydrocarbons simultaneously. This product contains high VOC absorbing Bio-Scrub X (for hydrocarbons) and Enviro-Scrub VT 6% (for H2S) in one chemical media. Simply add this media to your scrubber and you are able to remove VOC's and H2S simultaneously. Not for use in packed-column vapor scrubber systems! Excellent for use in bubble-up or forced-induction scrubbers like our E550 units.
Forced-Induction Scrubber Systems
Bubble-Up Systems
Solvent Absorption Systems
| | |
| --- | --- |
| Dilution Rate | Does NOT dilute with water |
| Application Methods | Not for use in packed-column scrubbers |
| Special Instructions | Do not add surfactants to this mixture! |
Add entire contents to scrubber reservoir, do not dilute with water. Settled product will show separation which is normal. During scrubbing, product will mix to allow for proper neutralization.

Note: Not for use in packed-column scrubber systems. Bubble-Up or Forced Induction type only.
| | |
| --- | --- |
| Specific Hazard | Eye and skin irritant |
| Flash Point (°F) | 266° |
| Biodegradability | Excellent |
| pH | 10--11 |
| Unusual Hazards | Incompatible with rubber |
| Other Information | Product freezes at 32°F |
| | |
| --- | --- |
| Available Quantities | 55 and 275 gallon containers |
| Packaging Material | Poly |
| Other Information | High Freeze point. Do not use this product if temperatures will be below 32°F. |
BSX50-EVT6 was used in a major refinery in Texas City, TX to scrub exhaust from a vacuum truck containing H2S and hydrocarbons from slop tank. Vapor Tech's E550 'Forced Induction' scrubber was used in this application. 275 gallon tote was pumped into the scrubber. Vapors were then run through the unit with 95% removal of hydrocarbons and 99% of H2S removed.This setup was ideal since it saved the customer from having to run two separate scrubbers.
BSX50-EVT6 was used in Vapor Tech's E5500 High Volume vapor scrubber unit to remove H2S and benzene vapors. Prior scrubber carbon was becoming spent after only 2 days.
Once Vapor Tech's E5500 was installed and BSX50-EVT6 was used, carbon media lasted 2 weeks before needing change-out. Exhaust from GapVac truck during a turnaround was feeding the scrubber.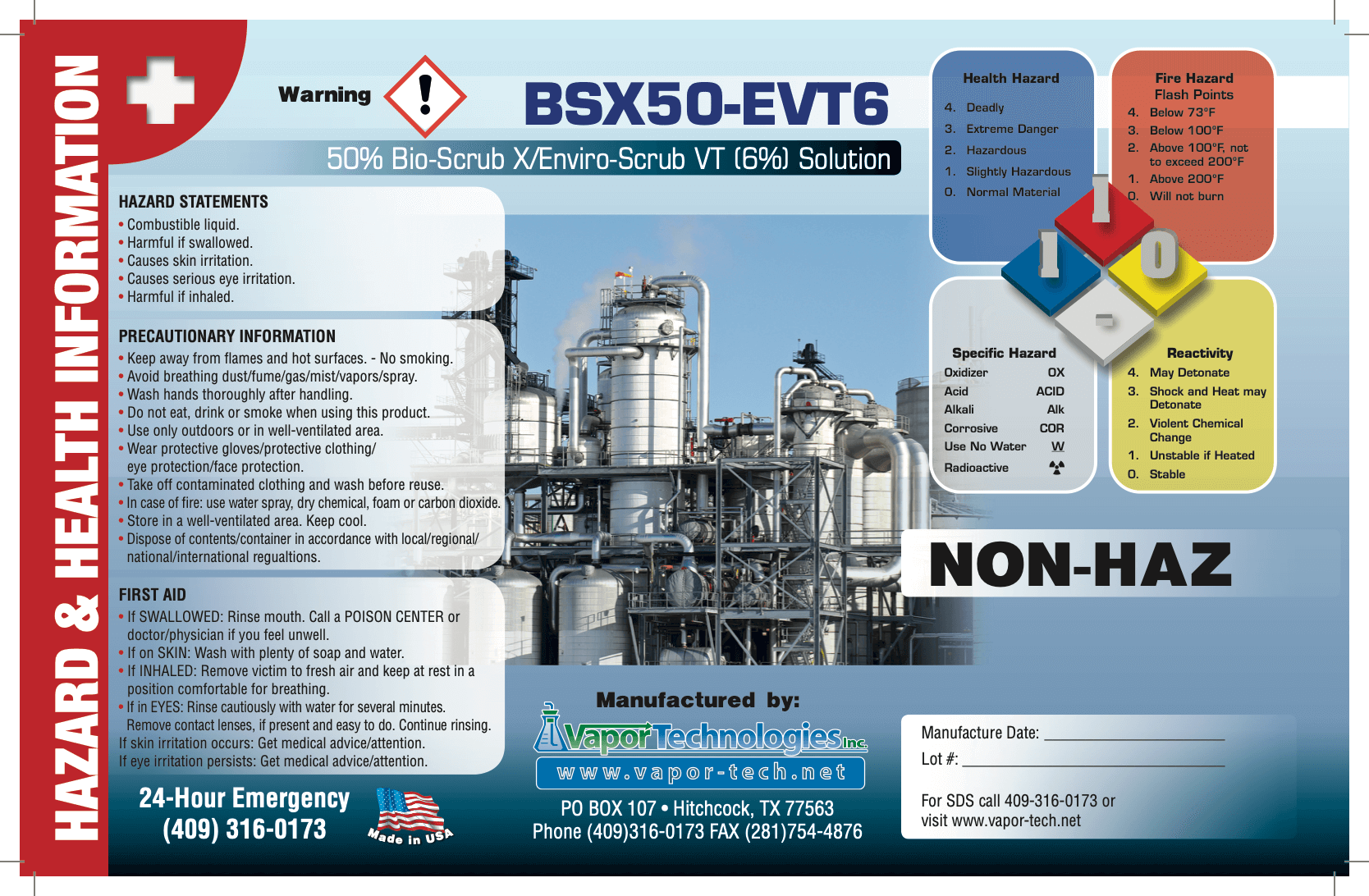 Related Products
Check out these other great Vapor Scrubber Chemicals products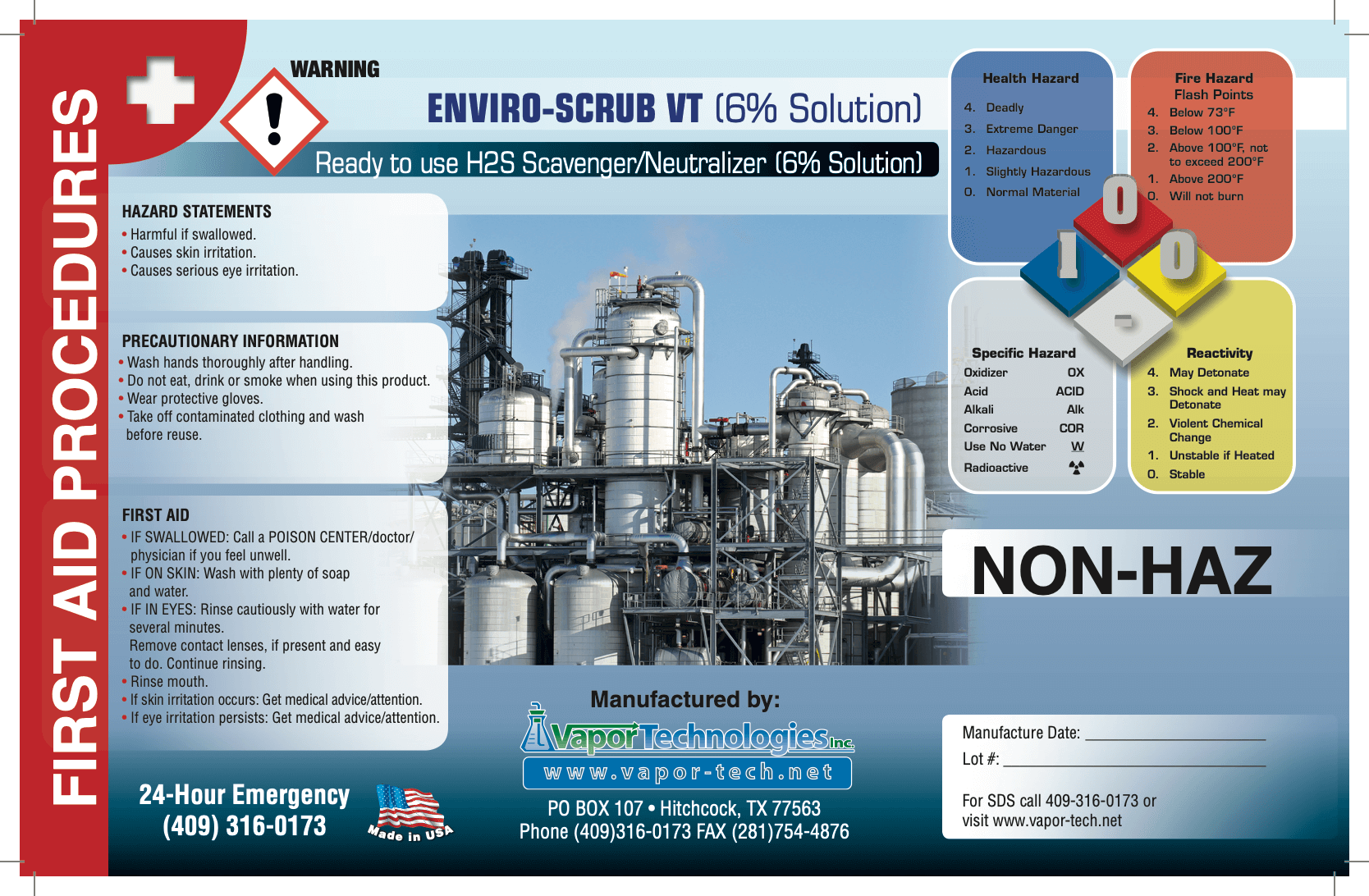 Enviro-Scrub VT (6% Solution) is a pre-diluted mixture that is designed to quickly neutralize H2S.