Steel Vapor Scrubber Systems
VTS36-500 Vapor Scrubber System
The VTS36-500 is designed for vacuum truck emissions. This system mounts directly behind the cab of a stretched vacuum truck or it can be mounted to a trailer and towed around to where it is needed. This system is comprised of a high efficiency liquid vapor scrubber unit (forced-induction) followed by twin, 500# carbon beds. Scrubber alone is capable of 98.5% removal of hydrocarbon vapors (using Bio-Scrub X chemical media). Dual carbon beds following scrubber polish total vapor stream to 99%+ in most cases. This system includes vapor monitoring points between each component which enables the operator to accurately pinpoint when chemical and/or carbon is becoming spent. In addition, this unit has safety features unlike any other system on the market. Each carbon bed has dual tempererature gauges for instant core temperature feedback. In addition, the unit is equipped with a water-purge system which when activated, floods each carbon vessel with water to help avoid a fire or unsafe elavate temperature event. The chemical and carbon medias are very easy to load and unload. This unit does not require carbon extraction services. Each bed has a large valve which when opened will allow carbon to flow out of the vessel. Cleanouts below each vessel allow for cleaning of 'fines' and debris which accumulate below the grids. This system is very versatile and allows the vacuum truck to scrub many types of different vapors. It is merely a function of the chemical media (and carbon in some cases) used in the system. Contact Vapor Technologies, Inc. for help determining which chemical is right for your application.
Skid-mounted vapor scrubber/dual carbon bed vapor control system capable of high removal efficiencies (99%+)
Use Vapor Tech's economically priced Bio Scrub X chemical media to absorb hydrocarbons (proven to yield high removal efficiencies).
Fits easily on stretched vacuum truck chassis
Easily removed from truck.
Requires no utilities!
Safety features such as temperature gauges and water purge.
Meets all state and federal qualifications for an emission control device due to the 99%+ removal rating.
| | |
| --- | --- |
| Unit Footprint | 4'6" W x 8' L |
| Unit Height | 9.5' |
| Vapor Inlet Size | 4" |
| Vapor Outlet Size | 4" |
| Typical Chemical Volume | 125 gallons |
| Typical Carbon Volume (each bed) | 500 pounds |
| Maximum Airflow | 500 CFM |
| Maximum Pressure | 2 psi (not designed for vacuum) |
| Sample Ports | Sample valve between each vessel |
| Power Needed from Truck | 12V for emergency water purge pump |
| Pressure Drop Across Unit | Approximately 45" wg @ 500 CFM |
| | |
| --- | --- |
| VAPOR | RECOMMENDED CHEMICAL COUNTERACTANT |
| Hydrocarbons | Bio-Scrub |
| H2S | Enviro-Scrub VT |
| H2S and Hydrocarbons | BSX50-EVT6 |
| Phenol | EZ-STRIP SS |
| Vinyl Acetete | VAMSOL 40 |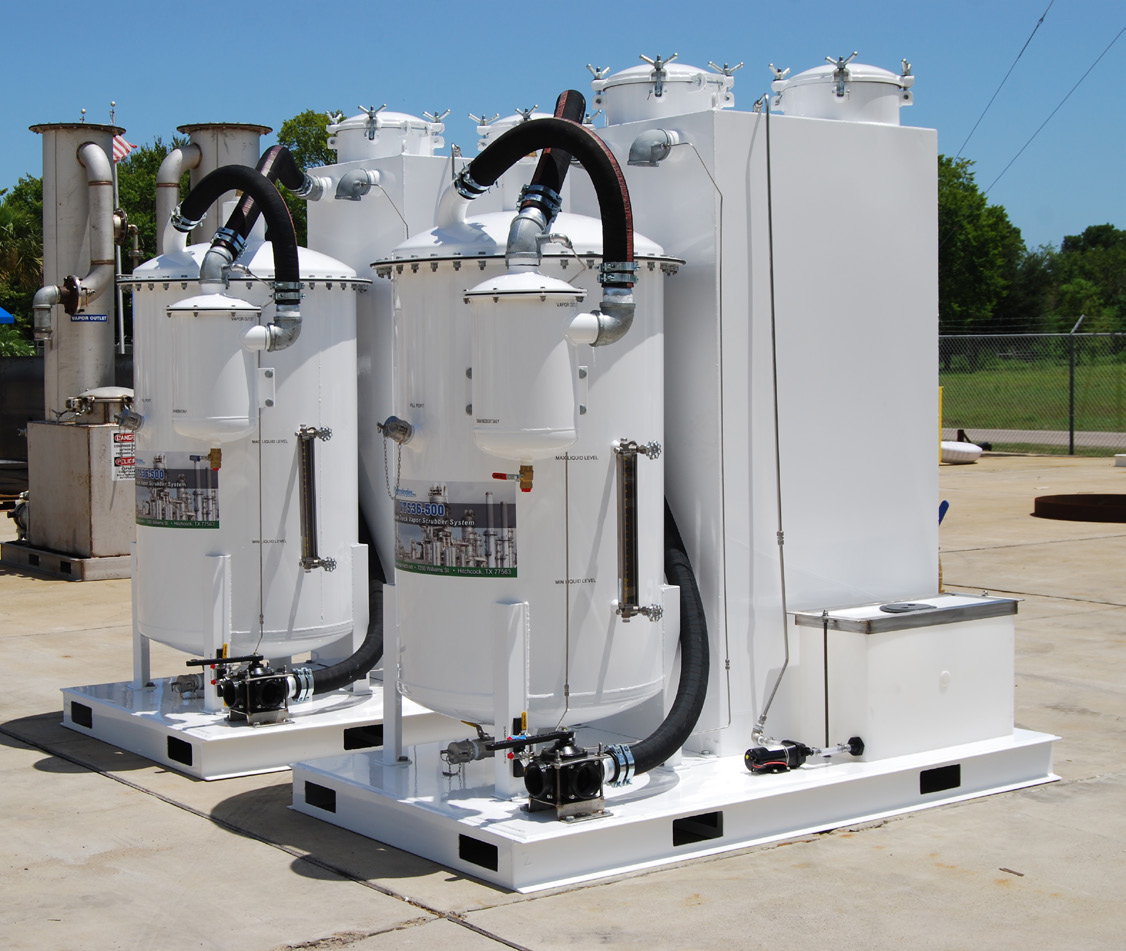 Related Products
Check out these other great Steel Vapor Scrubber Systems products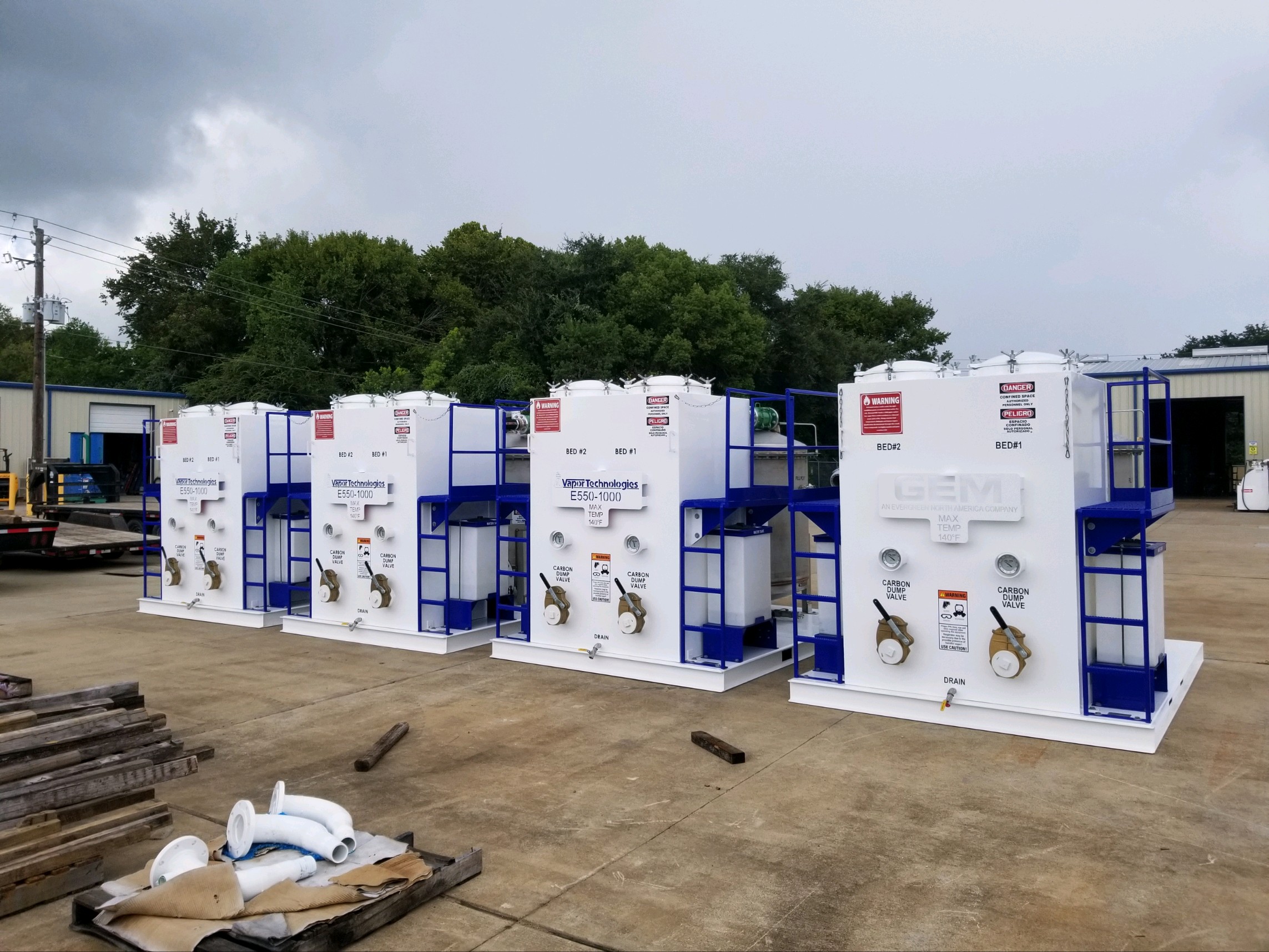 The E550-1000 is a skid mounted vapor control system comprised of a forced induction vapor scrubber followed by twin 1000# carbon beds.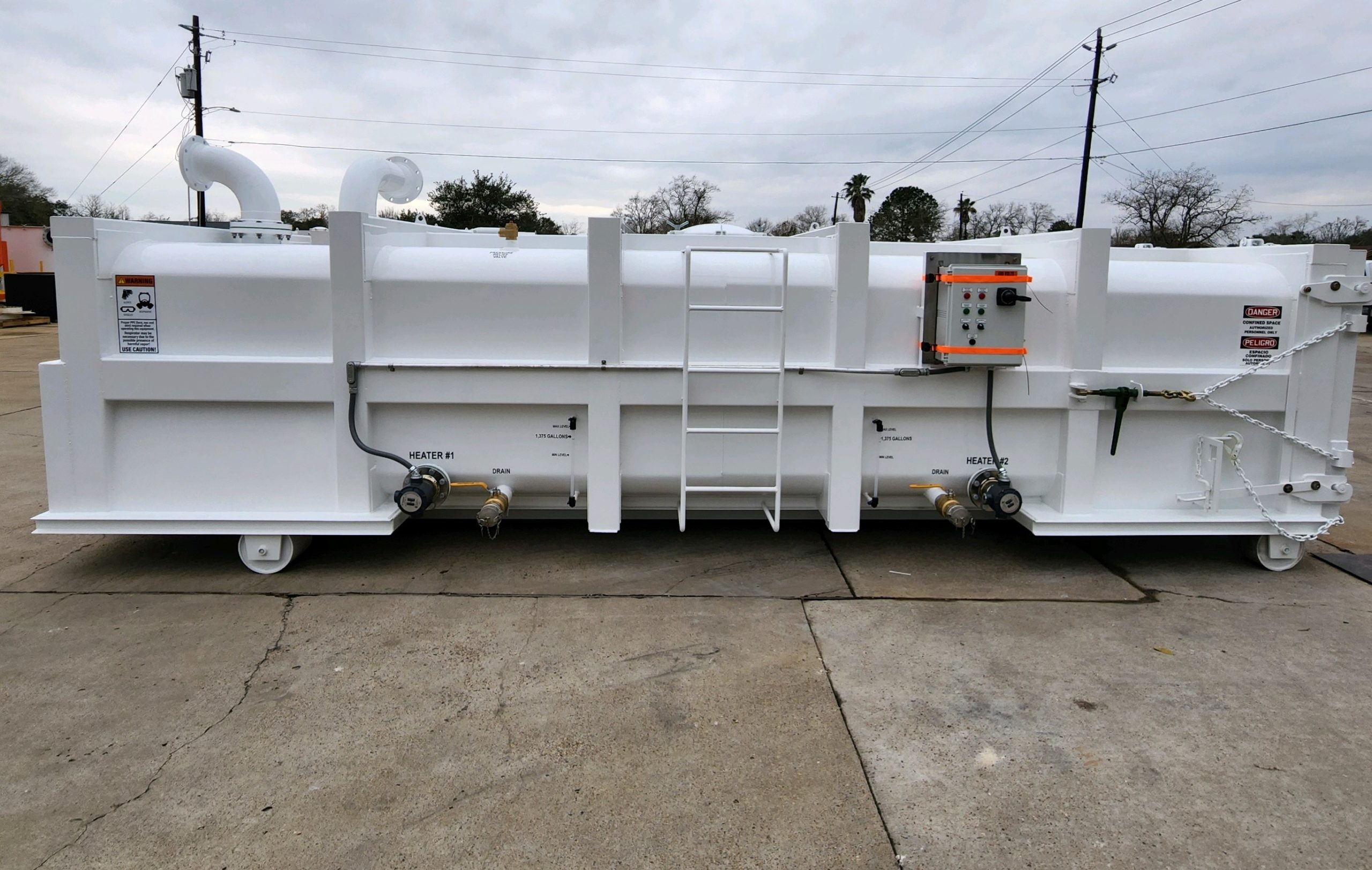 The Eliminator 5500 scrubber unit is designed to treat hydrocarbon and other vapors from Air-Movers and GapVac units which typically have exhaust streams around 5500 CFM.