Vapor Scrubber Chemicals
ENVIRO-SCRUB VT
ENVIRO-SCRUB VT is a powerful H2S Scavenger. It quickly and safely neutralizes H2S and can be removed from hydrocarbon liquids, scrubber solutions, natural gas, wastewater streams, and many more. Unlike caustic based products, ENVIRO-SCRUB VT will not allow a reverse reaction (which would liberate H2S in an acidic environment) once the reaction has taken place. Furthermore, this product is minimally effected by CO2. Lastly, reaction products are water soluble and are very biodegradable. Note: Reaction with mercaptans is typically slower and requires longer retention time.
Tank Cleaning
Waste Water Odor Control
Vapor Scrubber Systems
Municipals
Remediation
| | |
| --- | --- |
| Dilution Rate | 6% by volume |
| Application Method | Spray System or Scrubber |
| Reaction Rate | 1 gal of concentrated Enviro-Scrub VT will neutralize 2.2# of H2S |
| | |
| --- | --- |
| Specific Hazard | Eye and skin irritant |
| Flash Point (°F) | Above 120° |
| Biodegradability | Excellent |
| pH | 10-11.5 (10% solution) |
| Unusual Hazards | None |
| | |
| --- | --- |
| Available Quantities | 5, 30, 55 and bulk quantities |
| Packaging Material | Poly |
| Other Information | Do not let product freeze. |
Enviro-Scrub VT was used in a vapor scrubber system to control H2S stemming from asphalt production. The levels of H2S before the scrubber were 500-600 ppm. A multi-tower vapor scrubber system was used to treat these vapors. After going through the first tower with the Enviro-Scrub VT the H2S levels were down to 29. After the second tower the H2S levels were 0. The third tower was not even needed but is used as extra level of protection. The effluent coming from the scrubber was deemed non-haz and was able to go directly into the sewer.
Enviro-Scrub VT was used on a small job for H2S with one of Vapor Tech's PPS-24 scrubber units. Incoming H2S levels were 350. After the initial one tower pass the H2S levels were 0. No polishing carbon media was needed which saved the customer over $3,000.00.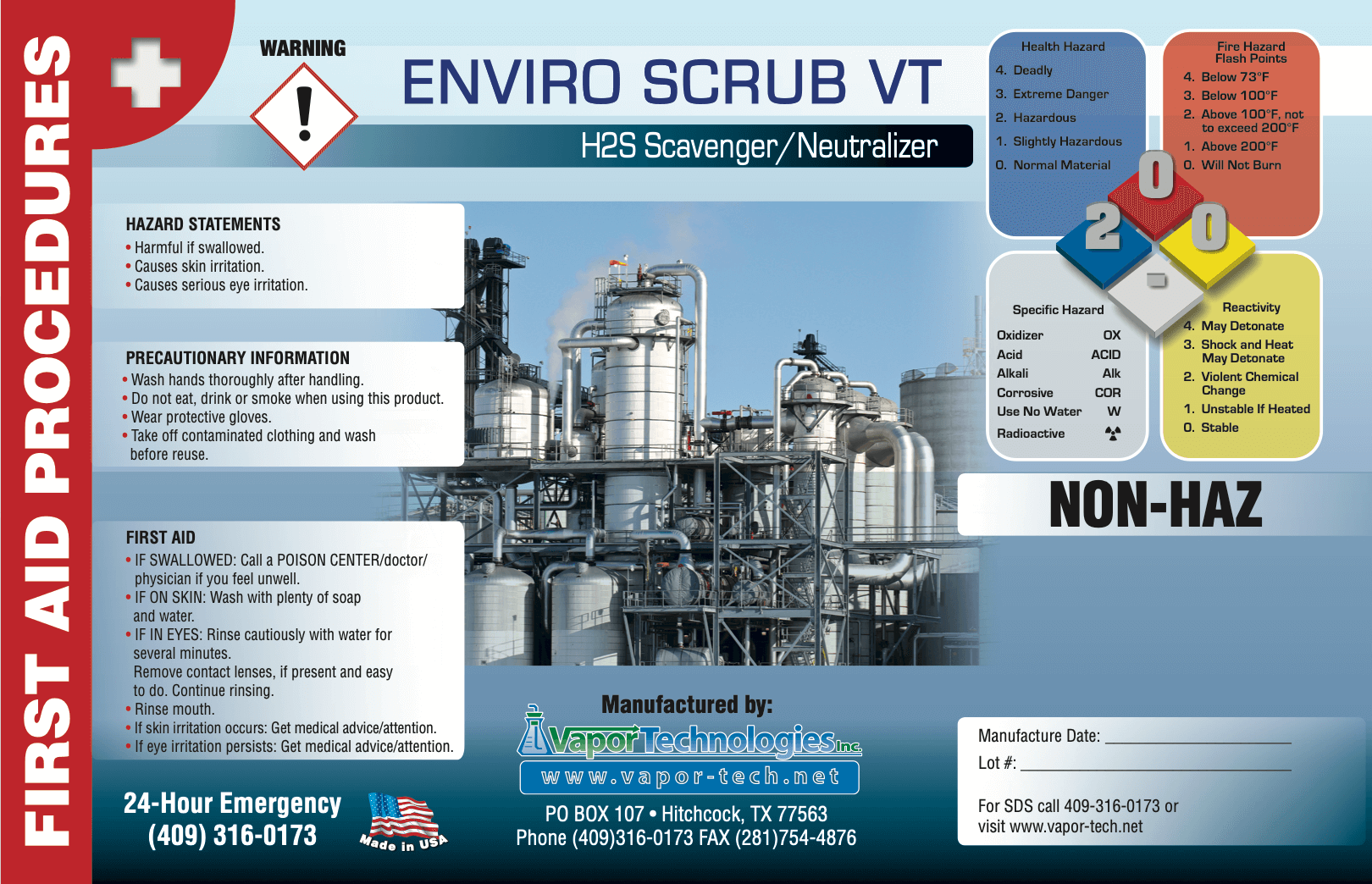 Related Products
Check out these other great Vapor Scrubber Chemicals products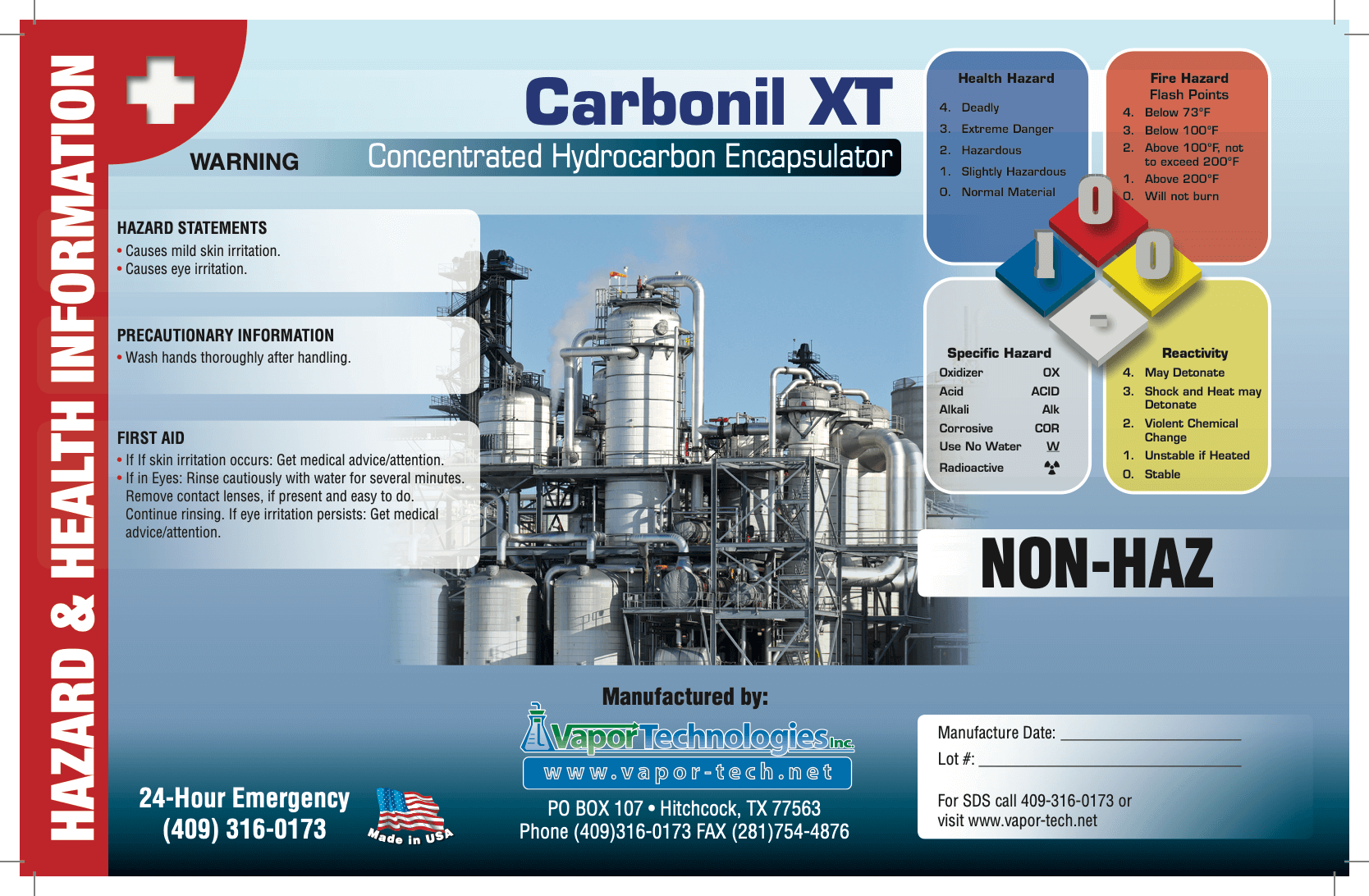 Highly concentrated hydrocarbon degassing/deodorization chemical agent.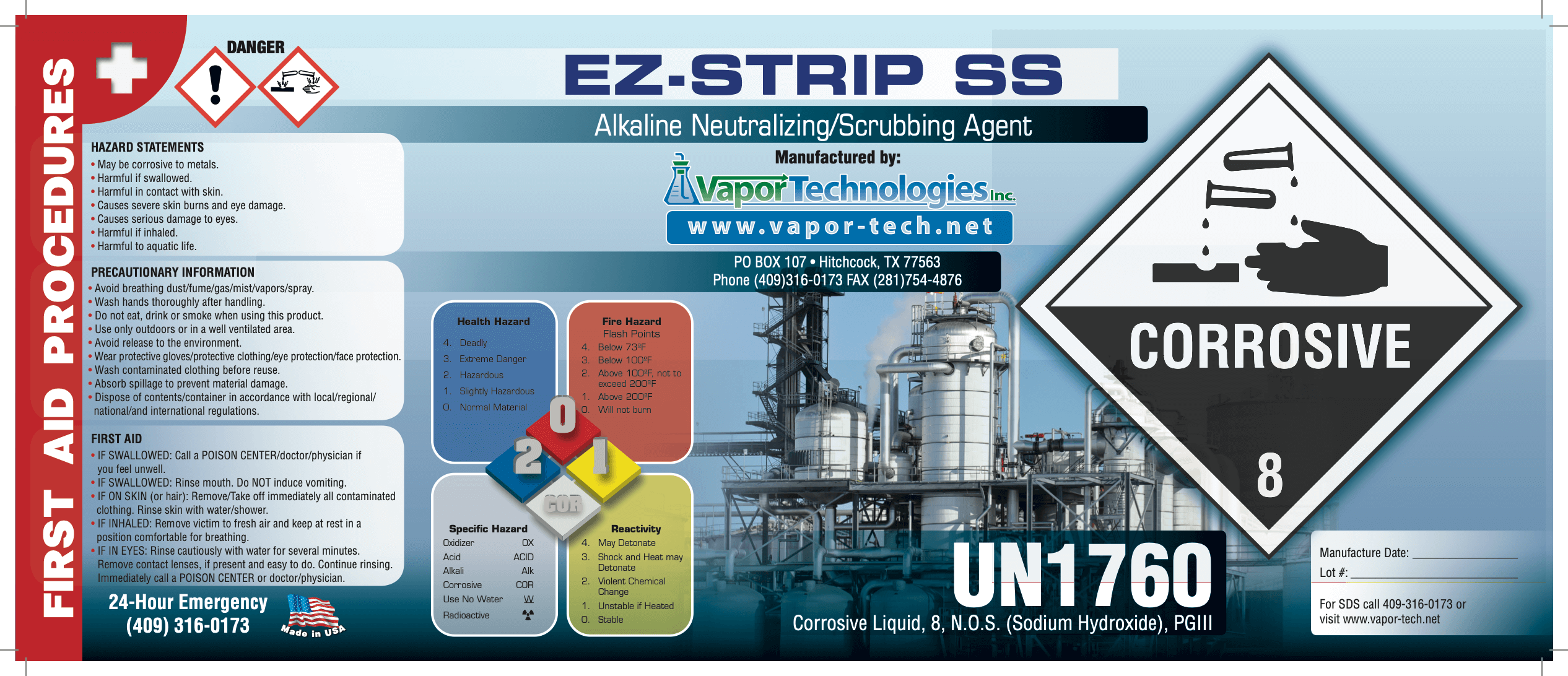 EZ-STRIP SS is a non-amine based liquid neutralizer for H2S, SO2, and mercaptans (as well as other compounds).