Industrial Strength Cleaning Chemicals
TRI-SOLV
Powerful cutting solvent for many types of synthetic resins, latex, polysulfide sealant, carbon soil, adhesive, carbon epoxy composite, epoxy, and other stubborn substances. Includes three powerful solvents for excellent performance. Environmentally friendly. Contains no chlorinated solvents. Excellent for removal of oils, resins, and synthetic products. Combustible material! 1,1,1, Trichlorethane replacement.
Tank Cleaning
Equipment Decontamination
Line Cleaning
Substance Removal
Equipment Decontamination
| | |
| --- | --- |
| Dilution Rate | Does not dilute with water (Oil-based) |
| Application Methods | Spray system, 3D nozzles, spinner |
Allow product to soak into set-up substances for as long as possible. Rinse with warm/hot water to remove product more easily.
| | |
| --- | --- |
| Specific Hazard | Eye and skin irritant |
| Flash Point (°F) | 120° |
| Biodegradability | Excellent |
| pH | N/A for oils |
| Unusual Hazards | None |
| Other Information | Combustible liquid |
| | |
| --- | --- |
| Available Quantities | 5, 30, 55 and bulk quantities |
| Packaging Material | Poly |
TRI-SOLV was used to remove heavy oils from an AST. This product was sprayed in through the man ways and allowed to soak in for 1 day. High pressure water was used after the 2 days to remove the residues. TRI-SOLV did an excellent job in removing the oils and providing acute odor control for the hydrocarbon odors. TRI-SOLV has a pleasant citrus fragrance which masked the hydrocarbon odors during the tank cleaning activities.
TRI-SOLV was used to clean resins that build up from a process. These resins accumulated on the floor near the unit. The previous solvent they used worked but made people in the building sick. TRI-SOLV was used because it worked well and actually has a pleasant citrus smell, which was pleasant to the workers.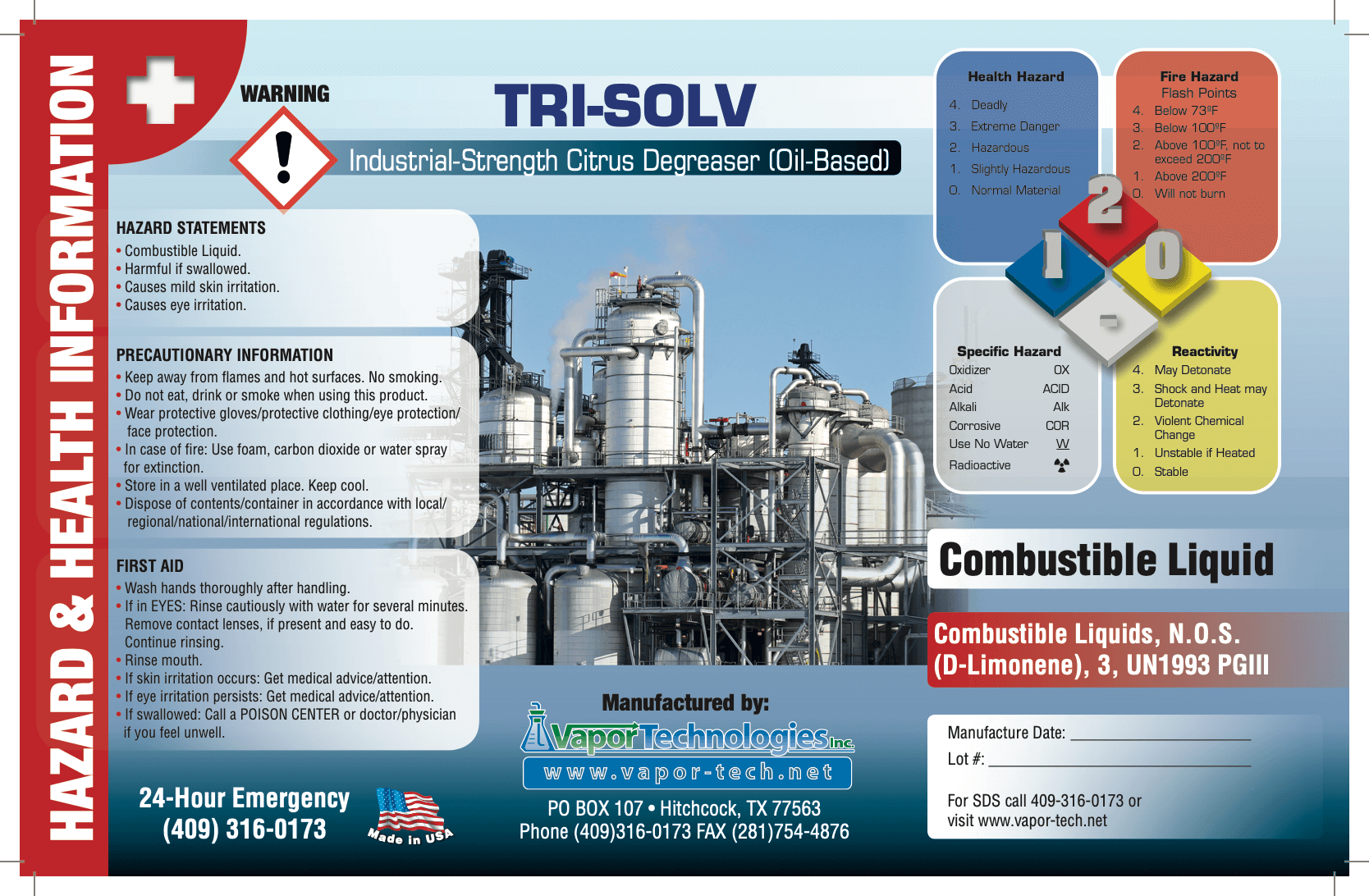 Related Products
Check out these other great Industrial Strength Cleaning Chemicals products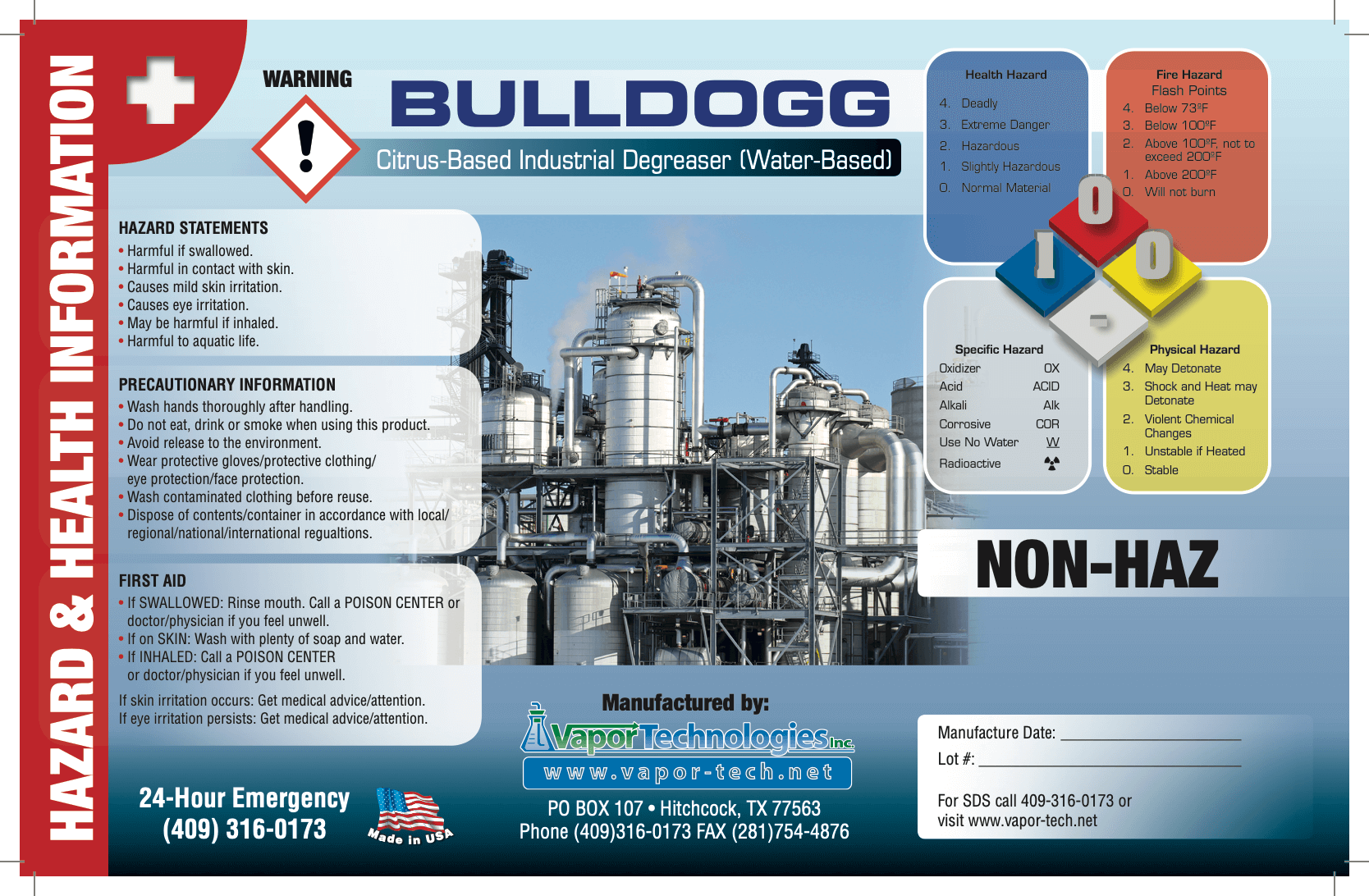 BULLDOGG is a complex chemical formula which includes citrus solvents and specialty surfactants coupled with alkaline cleaning technology.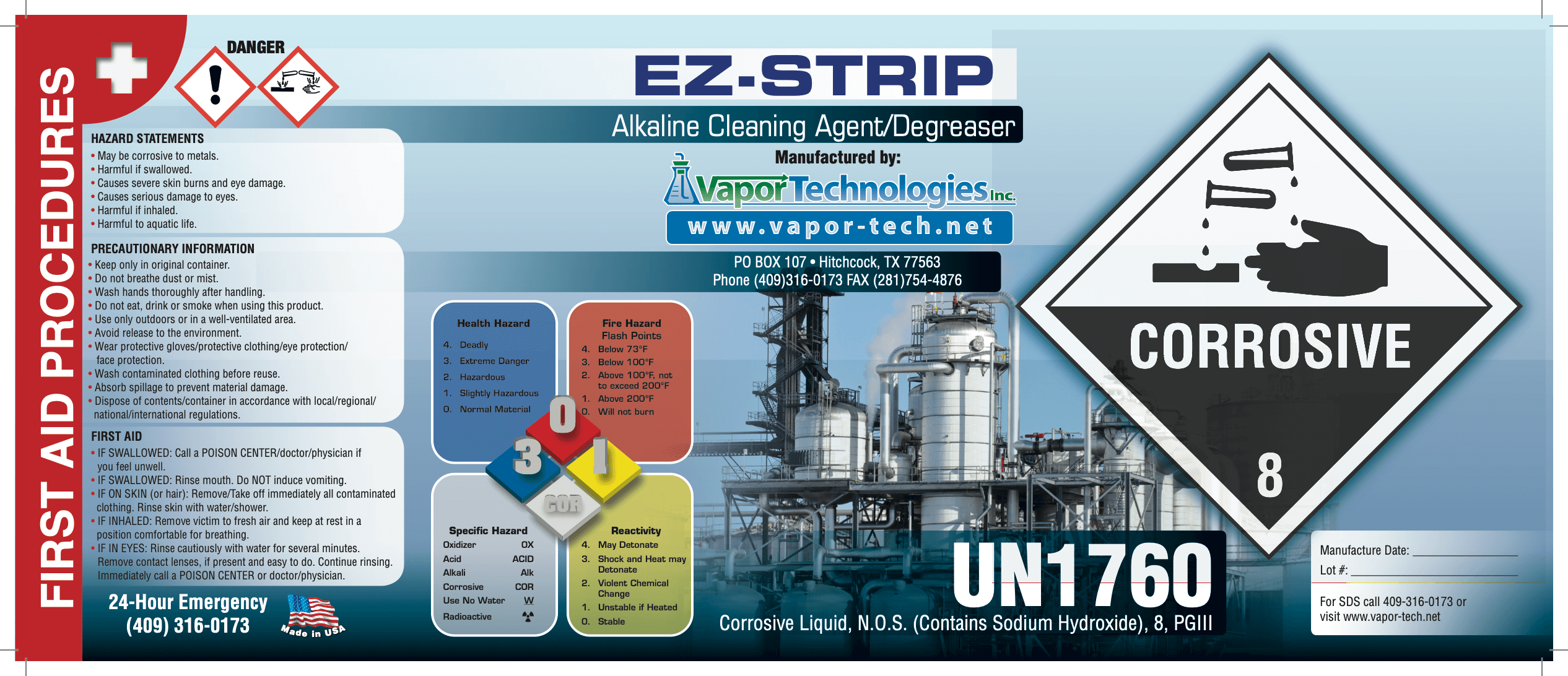 Highly alkaline liquid cleaning agent designed for fast removal of many types of substances including oils, carbon, greases, stains, and many more.