Vapor Scrubber Chemicals
SULFUR SCRUB 43
Sulfur-Scrub 43 is a liquid neutralizer designed to eliminate odors associated with amines or ammonia. This corrosive mixture aggressively neutralizes amines and ammonia and converts them into sulfates. Warning: Not safe for metals (including soft metals, carbon steel, stainless steel, aluminum, etc.)
Tank Cleaning
Spill Control
Line Cleaning
Vapor Scrubber Systems
Rail Car Cleaning
| | |
| --- | --- |
| Dilution Rate | 4 to 1 with water |
| Application Method | Tank Cleaning or Vapor Scrubber Systems |
| Special Instructions | Maintain pH level of 2-4 |
Avoid mixing this product with sodium hypochlorite (bleach) solution. Chlorine gas may be created which is harmful!
| | |
| --- | --- |
| Specific Hazard | Corrosive liquid! |
| Flash Point (°F) | Non-flammable |
| Biodegradability | Good |
| pH | 1-1.5 |
| Unusual Hazards | Avoid soft metals, stainless steel, chlorine |
| Other Information | See SDS |
| | |
| --- | --- |
| Available Quantities | 5, 30, 55 and bulk quantities |
| Packaging Material | Poly |
| Other Information | Do not let product freeze. |
SULFUR-SCRUB 43 was used in a wet scrubber after a process which was air stripping ammonia from a wastewater tank. Inlet concentrations of ammonia were 210ppm. After the scrubber ammonia ppm level was 0. During the job, readings did reach 10ppm on the outlet of the scrubber due to an issue with the feed pump metering in the chemical media into the scrubber. Once fixed the ppm levels quickly went back to 0. Specialized ammonia carbon was used on the exhaust of the scrubber to polish vapors beyond 99.9999%.
SULFUR-SCRUB 43 was used in a wet scrubber to neutralize amine odors at a chemical refinery. During the tank cleaning job a fishy odor was present and after testing it was determined that amines were present in the vapor stream. The regular carbon media was not efficient enough. An FRP wet scrubber from Vapor Tech was brought in and a 4:1 solution of SULFUR-SCRUB 43 was used to neutralize the amine odors.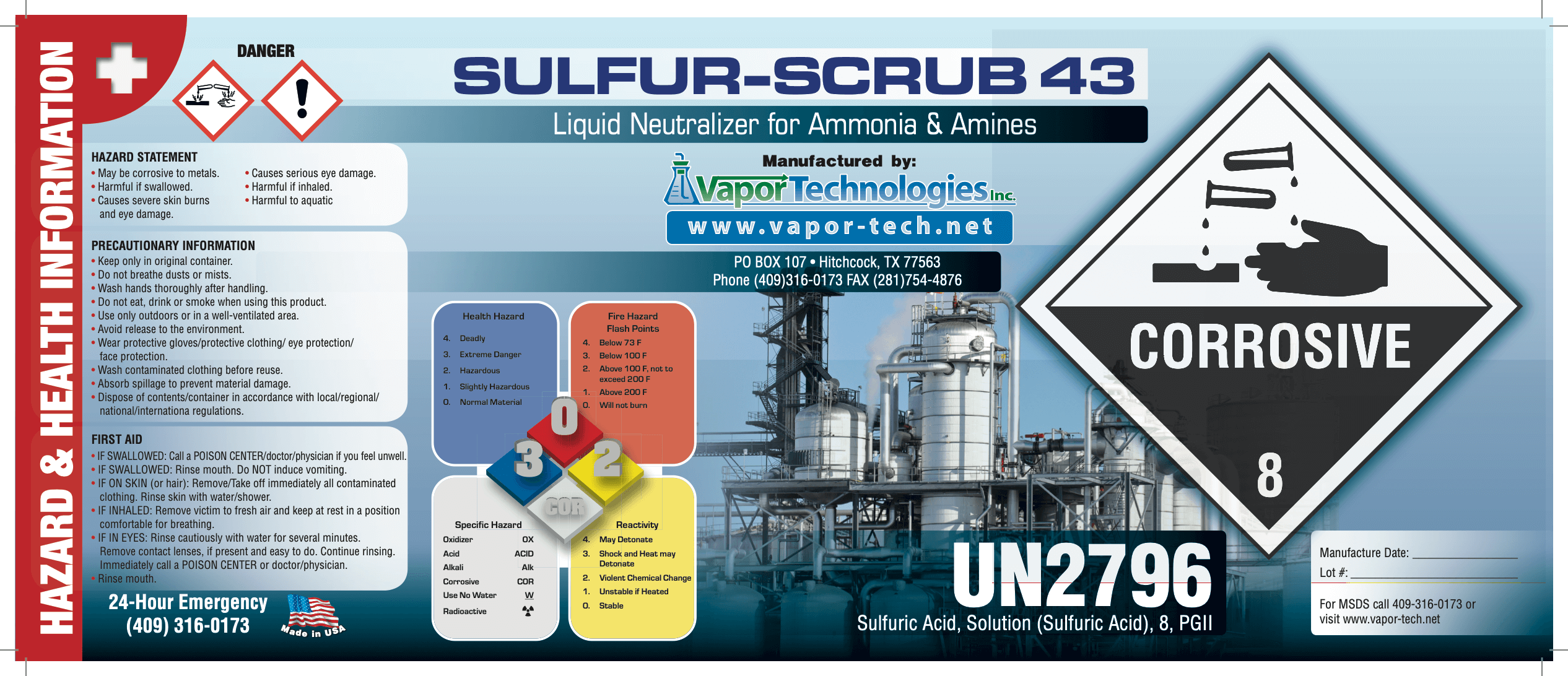 Related Products
Check out these other great Vapor Scrubber Chemicals products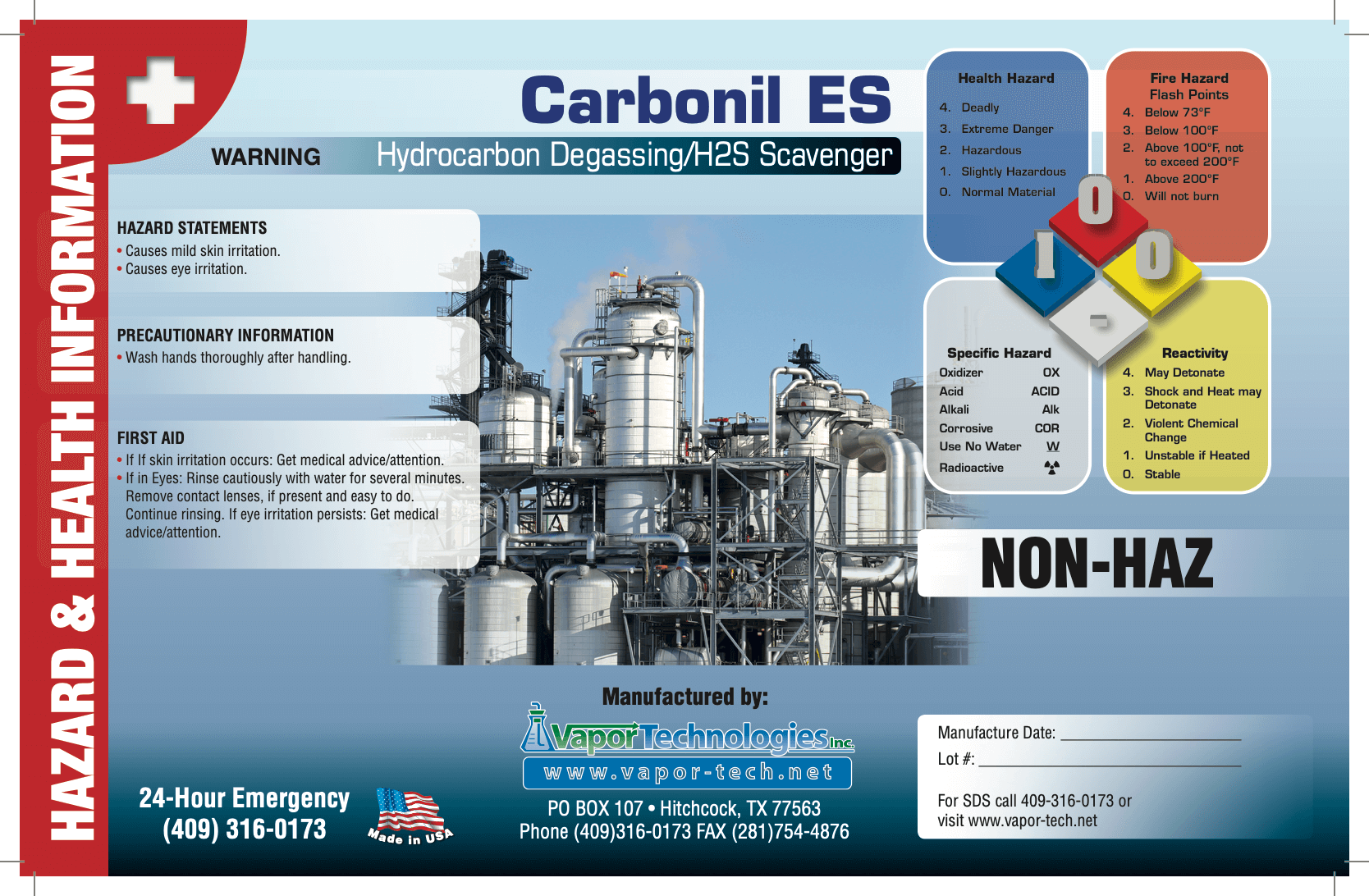 CARBONIL ES was designed for applications which have both hydrocarbon levels and H2S.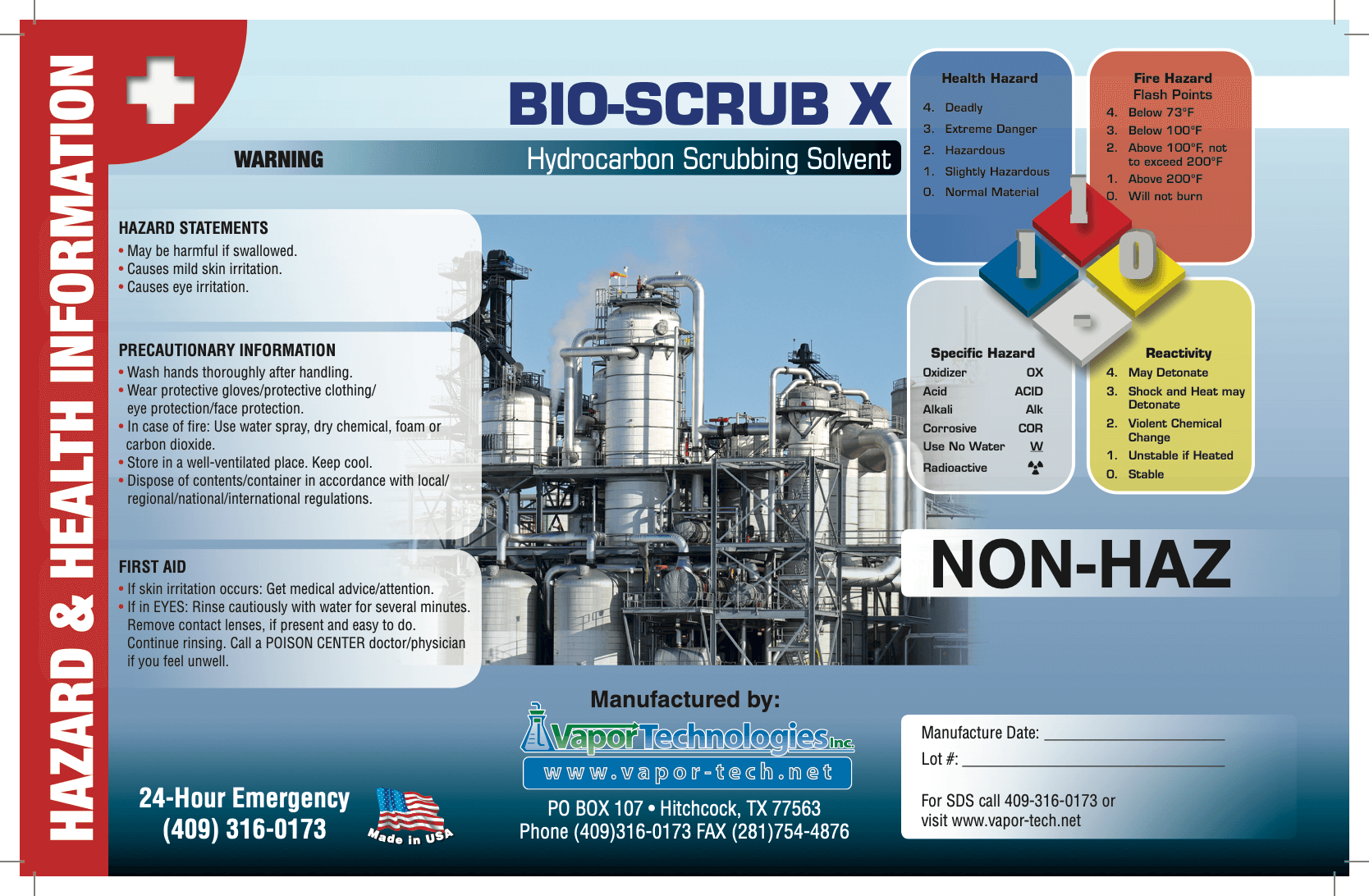 Bio Scrub X is a 100% biodegradable oil media which is designed to absorb hydrocarbons.